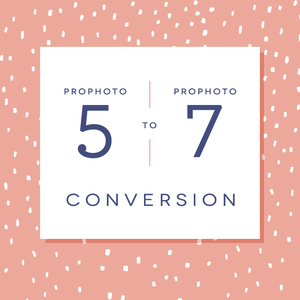 ProPhoto 5 to ProPhoto 7 Conversion
Adding product to your cart
Enjoy all that ProPhoto 7 has to offer without losing your ProPhoto 5 customizations!  With Red Met Yellow Creative's ProPhoto 5 to ProPhoto 7 Conversion Package, we'll have everything fully and flawlessly converted within 5-7 business days! Now, sit back and relax while we do the heavy lifting!
*Purchase of ProPhoto 7 Upgrade not included - You can do that here!
* No template purchase necessary
Return Policy:
Due to the nature of our products, we do not, under any circumstances, offer returns or exchanges. You may not resell, redistribute or use our templates or products in any way other than for your own business.